Are you interested in learning how to juggle but don't know where to begin? Maybe you have been wanting to learn a particular trick but can't figure it out?

I love teaching people how to juggle, and helping them take their tricks to the next level. On this page you will find various resources and tutorial videos.
Personalized Lessons
If you live in the San Francisco Bay Area and want face-to-face lessons personalized to your skill level we can set up a time and location to practice together. I offer small private lessons, and also group lessons and can provide gear to use during our time practicing together.

I can also teach lessons over video chat if you do not live near me but are still interested in a customized learning curriculum.
Contact Me for Lessons
Video Tutorials
Here are some video tutorials I have created. Currently I only have a few created tutorials but plan on making a tutorial series soon!
Diabolo Tutorials
Diabolo has been around for centuries! There are so many tricks, that even after 15 years of practicing it, I'm still learning and seeing new ones discovered within the diabolo community. Here are some diabolo tutorials I have created for various tricks.
1D Cradle Isolation
Cat's Cradle ("Bridge") variation in which the diabolo gets locked in place and the sticks rotate around.
Ringabolo (Ring + Diabolo) Tutorials
Ring + diabolo is an uncommon juggling form in which you spin a diabolo on a ring. While most people spin it with the string first, I discovered trick in early 2010 without using string at all. Many of the tricks I've created for this style use hoop/ring isolation to get the diabolo to spin.
1D Ringabolo Isolation
Spin the diabolo with only a juggling ring. Use basic ring isolations to give the diabolo spin on the side plane and wall planes.
Join my Meet Up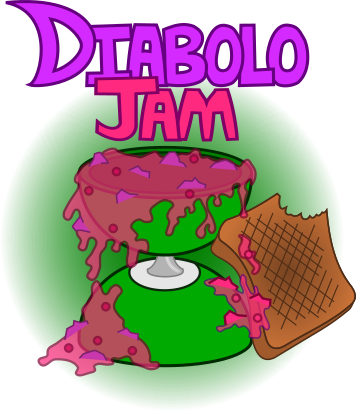 Each month I try to host a free Meet Up group for the community. Anyone is welcome to come and practice regardless of skill level. Whle the group has a specific focus on diabolo juggling, all other props and circus arts are welcomed.
Join the Diabolo Jam!
Other SF Bay Meet Ups
There are many juggling Meet Ups in the SF Bay, some of which are listed below. Meet Ups are a great way to meet jugglers and circus artists who are devoted to practicing. For a full list of meet ups and juggling festivals around the world check out
The Juggling Edge
.
JugglingEdge Club List
JugglingEdge Fest List